E-Learning
E-learning makes learning easily accessible, cost-effective and you can study at a time which suits you and your Manager. Some e-learning programmes have been designated as Mandatory for all staff to complete and some are available for specific groups of staff. You will find details of our mandatory and optional modules below.
We use the Learning Pool platform to deliver our e-learning opportunities. This is completely separate from Ceri. For guidance on accessing Learning Pool please see below.
Mandatory E-learning Programmes
Violence against Women, Domestic Abuse & Sexual Violence (VAWDASV)
Whistleblowing 
Well-being of Future Generations Act 
Equality & Diversity 
Data Protection
Welsh Language Awareness 
H&S
Information Security 
Safeguarding Children & Adults at risk – Level 1
Fleet Driver Training – Mandatory for Fleet Drivers and Plant Operatives Only
Optional E-learning Programmes
Food Hygiene
Identifying Mental Health difficulties in Children & Young People
Display Screen Equipment
Introduction to Care & Personal Care
Manual Handling of People for Care Workers
Manual Handling of Objects for Care Workers
Infection Prevention & Control
Safe Administration of Medication
Emergency Rest Centre Training
United Nations Convention on the Rights of the Child
Unconscious Bias for Teachers
Risk Management
Connect to Kindness
Mental Capacity Act Awareness
Understanding Autism
How to access Ceredigion Learning Pool
There are three ways to access Ceredigion Learning Pool:
Click on the  tile on the CeriNet home page
Click on the  button at the top right corner on Ceri net
Search for Dysgu.ceredigion.gov.uk in your web browser
If you have an email address ending @ceredigion.gov.uk:
Please select the 'Ceredigion Staff (Excluding Schools)' box. Ceredigion Learning Pool will let you dive right in!
If you DO NOT have an email address ending @ceredigion.gov.uk (e.g. work in a school):
Select the 'All Other Users' box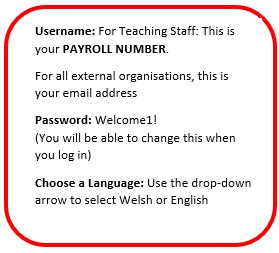 If you have any difficulties, please email