How to Add 'Private vehicles'
This article provides information on adding or amending your private vehicle details within the 'Personal' section of the Ceri self-service system.
Adding a Private Vehicle
Within the Private vehicles section you will be able to Add Vehicle details. This is required prior to making any travel claim.

To add a Vehicle you will need to click the Add vehicle button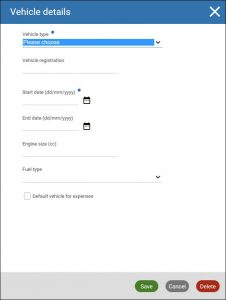 Complete the following fields:

Vehicle Type – Select from drop down list
Vehicle Registration – This is your vehicles registration number
Start Date – This should be the date of purchase, but must be prior to date of claim
End Date – This should only be inputted if you have sold the vehicle (any new vehicle will then have a new start date)
Engine Size – This should be the c.c. of the vehicle e.g. 2 litre should be entered as 2000.
Fuel Type – Please enter from the drop down
Default vehicle for expenses – Tick this box to make it your default vehicle (if you have multiple vehicles registered then this should only be on the main vehicle)

Click Save
Note: When adding a new vehicle consider ending the previous vehicle if no longer used. Do not delete this vehicle or amend the Vehicle Registration.