How to navigate the home page, sections and links
This article provides guidance on navigating and using the Home Page, sections and folders on the Ceri People Manager system.
Your people manager home page is where you will start any navigation within the system. It provides a series of sections and links which help you navigate various parts of the system.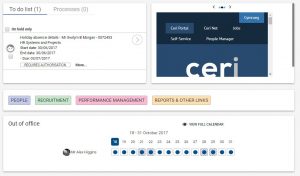 The Home Page is split into 4 parts:
To-Do List / Processes
Your To Do List is where any tasks that require your attention or authorisation will appear. Your Processes are background tasks that run after initiating an action within the system. There are separate articles in the knowledge base for both of these.
Noticeboard
The Noticeboard box contains any messages or notifications regarding the system or related subjects.
Sections
The Sections box provides links into the main sections of the system.
Out of Office
The Out of Office will display a calendar of all your direct reportees and any related absence for the forthcoming 2 weeks. There is also a link to View Full Calendar which takes you to the full absence calendar with all your direct reportees pre-selected. There is a separate article in the knowledge base on how to use the absence calendar.
Returning to the homepage
To return to the home page click on the Ceri logo at the top left of the page

Navigating within sections
Once you've accessed a section (e.g. People) you can access the section folders and links at any time from the top of the screen.
To return to the search item (e.g. a person) click the persons name at the top of the screen to take you back to the sections folders and links

To jump into another link within the same folder click the MENU button at the top of the page